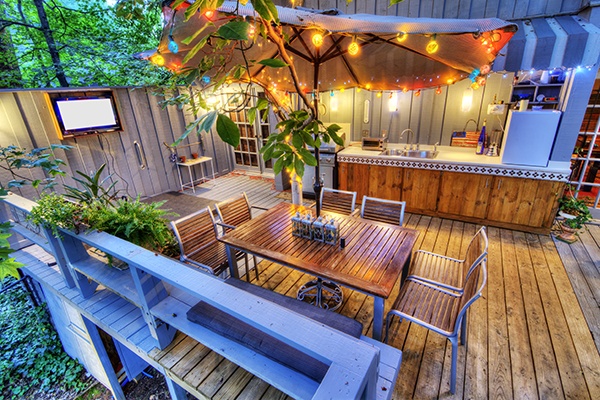 Summertime is right around the corner, and that usually means spending more time outdoors. The nights get longer in the summer also, so having the proper lighting outside can make a big difference. Whether you want a lot of lights, just one or two, ones you plug in, or ones that charge in the sun - we can help you choose the right lighting to improve your outdoor space!
One of the more popular and modern options for outdoor lighting are string lights. Outdoor string lights create a picturesque setting and add a soft glow to your patio (or other outdoor setups). The amount of light these give off isn't extreme but sets more of a mood. They shine in the darkness but not projecting too much light out from where they're set up. This is also a widely popular choice for outdoor wedding/party settings. They do make only string lights that run off solar power as well as ones you plug into an outlet.
Another popular option is a tried and true classic, a lantern! Lanterns come in all kinds of different shapes and sizes, ranging from simple, sleek designs to ornate and exquisite detail work. The best part of these lanterns is that they're mobile! You can move them from the surface to surface, walking from one side of your yard to the other and have a well-lit path. Of course, there are more decorative lanterns that are large and heavy and meant to stay in place once set up, but the more traditional lamps are very versatile in where they can go. You can fill the lantern with stones, shells, other items that add to the look of your outdoor theme. Same for the candles inside, they can be real candles, but it's a safer and better option to get LED candles.
Light your path with solar stake lights! These come in all different designs and styles. You can go modern and get a sleek, simple stake light, or go for more flair with colorful glass and wire design stake lights. These lights charge in the sun and light up your entire walkway/driveway as soon as the sun goes down! The amount of light these can put off is no joke either; you'll know where every sidewalk crack is when walking to and from your front door in the dark.
When figuring out the best lighting for your outdoor space, it's best to go for what works best for your home and personality. As well as paying attention to how much light you desire from your outdoor lights. Improve your space with just a simple twist of a light bulb and redo your outdoor lighting today!
SOURCES: 1