Baseboard Heaters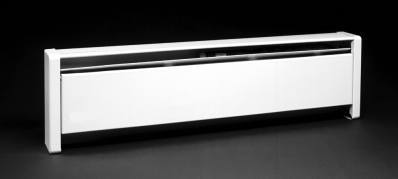 What are baseboard heaters?
Baseboard heaters are the next best thing when it is not practical to extend the existing heating system of your home. They are zonal heaters located in each room, directly controlled by a thermostat. The size of the baseboard heater depends on the size of the room you are wanting to heat.
When you call Leinster Electric, our licensed electrical expert will come out to your home and evaluate the rooms you want baseboard heaters in to best determine what size heaters and circuits you will need for a smooth installation and easy fix to your heating system.
How do baseboard heaters work?
Baseboard heaters contain electric heating elements encased in metal pipes that go from one end of the enclosure to the other. As air within the heater is warmed, it rises into the room, and cooler air is drawn into the bottom of the heater. Since heat rises the lower the baseboard heaters can be installed the better. Baseboard heaters are ideally installed on perimeter walls because that is where the greatest heat loss occurs.
When it comes time to installing baseboard heaters, it is vital that you choose a licensed electrician, like Leinster Electric, to handle its installation. There are many protocols that need to be followed when installing baseboard heaters to prevent possible future electrical problems.
Leinster Electric always strives to keep you and your family safe from electrical nightmares and there is nothing more dangerous than electricity. We offer many types of baseboard heaters to fit any budget.
Please contact Leinster Electric at 973-349-4184 or use our online form to a request an appointment to see how our expert residential electricians can help you with electric baseboard heaters!