Ceiling Fan Installation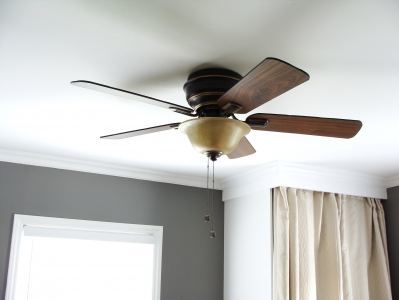 Looking to do an upgrade to your home without spending much money? Look towards the ceiling…the ceiling fan that is! Updating your home's ceiling fans can take any room from a 6 to a 10 in just a matter of a few screws and wires!
Of course, safety is important with any electrical installation, and ceiling fans are no different. When looking to install new ceiling fans, the smartest course of action is to use a professional electrician to perform the work. Not only does that protect you from potentially injuring yourself or causing accidental damage to your home or the fan, but it will also ensure that local and national safety codes are followed. Often the wiring for these fixtures already exists, but sometimes the problem occurs where new wires must be added, or there are frays, and a professional will see these issues right away. This will prevent future electrical safety hazards.
Fan installs may seem easy to do yourself, but personal safety is crucial, and we encourage you to rely on the services of quality, knowledgeable installer. You may spend a little extra at first, but using a licensed electrician like Leinster Electric may just save you much time, money, and unnecessary hassle down the road.
Please contact Leinster Electric at 973-349-4184 or use our online form to a request an appointment to see how our expert residential electricians can help you with ceiling fan repair and ceiling fan installation!