Childproof Electrical Receptacles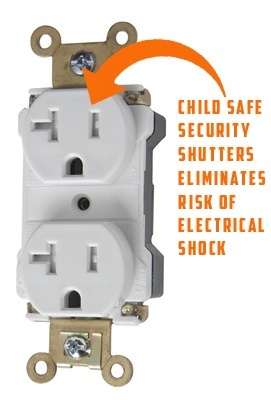 I'm sure you've seen it in movies and TV shows, a small child putting his finger or some object into an electrical outlet, shocking his hair into standing up straight? Cute heh? Well in real life, the results of such an action can be much more serious then just a bad hair day. It could cause serious injury to a person or perhaps even cause death.
Even if you don't have children of your own, you likely have relatives that come to visit, or even furry children (pets). Childproof electrical outlets can prevent foreign objects such as a finger or a pet's tongue from entering the outlet, while allowing a standard plug to still fit. No more messing with those annoying plastic covers that you have to peel off with your fingernails. Leinster Electric can quickly install these "built-in" childproof receptacles for you. While it may seem like an unnecessary precaution, this simple installation can save you from having any incidents later, and add a layer of protection to your home and give you piece of mind.
Please contact Leinster Electric at 973-349-4184 or use our online form to a request an appointment to see how our expert residential electricians can help you with childproof receptacles!