Landscape Lighting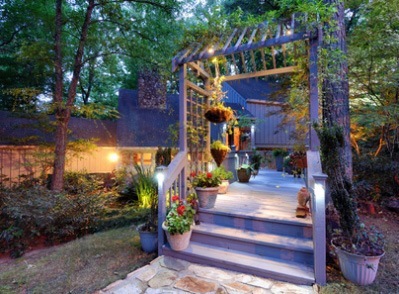 Looking for a way to get more use from your outdoor living space, while enhancing your landscaping? Landscape lighting is a fabulous way to add decorative touches to your landscaping, as well as safety! With the many varieties of lighting, including energy efficient LED lighting, you will be sure to find something to meet your needs and budget.
One of the first questions your electrician may ask is how you plan to implement your outdoor lighting. Highlighting walkways or stairs, spotlighting certain areas, and showcasing architecture are just a few ways to make use of landscape lighting. In fact, there are even lights that can be installed in ponds and fountains to add vibrant colors underwater!
Once you have an idea of what you would like to achieve, Leinster Electric can complete your installation both quickly and safely. Adding outdoor lighting will not only upgrade your landscape but can also update the appearance of your home, all while allowing you to enjoy your outdoor living areas more.
If you're looking to enhance your yard and add landscape lighting, please contact Leinster Electric at 973-349-4184 or use our online form to request a service appointment.