Circuit Breakers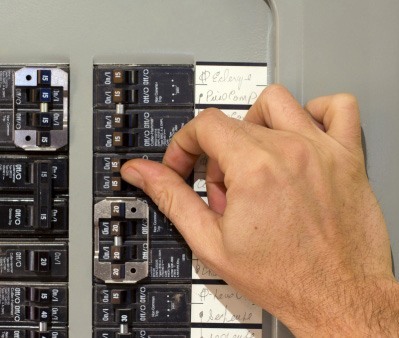 What is a circuit breaker?
A circuit breaker is an automatically operated electrical switch designed to protect an electrical circuit from damage caused by overload or short circuit. Unlike fuses, circuit breakers can be reset to resume normal operation without replacement. Since circuit breakers vary in size it is always important to call the licensed electrician when any work is being conducted with circuit breakers.
Once installed correctly, your circuit breaker will detect an electrical fault. The circuit breaker contacts must carry the load current without excessive heating, and must also withstand the heat of the arc produced when interrupting the circuit. When an electrical current is interrupted, an arc is generated. This arc must be contained, cooled and extinguished in a controlled manner, so that the gap between the contacts can again withstand the voltage of the electrical circuit. Once the fault condition has been cleared, the contacts must again be closed to restore power to the interrupted circuit.
Another reason to call an electrician is because there are many different classifications of circuit breakers that can be made, based on their features such as voltage class, construction type, interrupting type, and structural features. To name a few there are low-voltage circuit breakers, magnetic circuit breakers and common trip breakers. Without knowing exactly what you need you will be putting you and your family at risk for a disaster.
Please contact Leinster Electric at 973-349-4184 or use our online form to a request an appointment to see how our expert residential electricians can help you with electrical circuit breakers!